How to change Gmail password? Gmail has always been a famous platform for making e-mail ids but has gained more popularity after the arrival of Android. There was Hotmail and Yahoo that were more used at the beginning. Now, every android user has their Gmail accounts because they need it to download apps from the Google Play. The name Gmail comes from Google Mail. Google is the favorite search engine of many. Gmail and Google can be used completely for free and they are always available on every device like smartphones, tablets etc.
Related articles about How to change Gmail password
How to change you name on Facebook
Making an account is easy and the important part is to think of a strong password because there are scammers and hackers everywhere. You may have to change your password because you think someone knows about it, or it is hard for you to remember or you forgot it.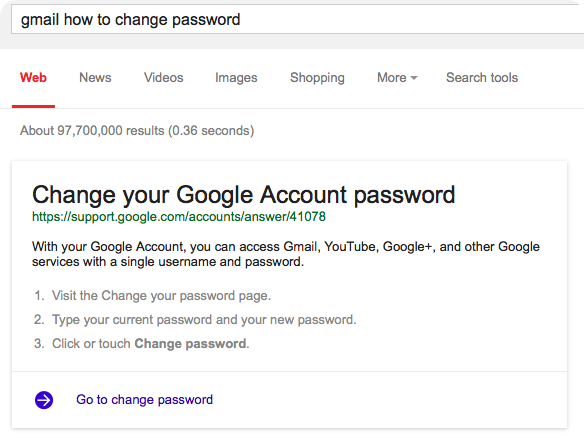 Change Gmail password
Changing the Gmail password is just as easy as making the Gmail account. Here is how you can do it. This is how you can do it if you remember your current but you want to change it for security purposes.
Step 1: Log in to your Gmail from your PC. Go to the top-right corner and there is an icon resembling a gear icon. That is Settings. Click on that.
Step 2: Once you click it, you will find other options like themes, take the tour and settings. Press the settings inside the settings icon.
Step 3: You will several tabs like General, Label and Inbox. Go to Accounts and Import and the first option is to change the password. They will ask you to type the old and the new password. Do that and click done.
Here is how you can change you Gmail password if you have forgotten the old one or cannot get into your account.
Step 1: Type in the e-mail address and click on "Forgot password?"  You will get three options and select the first one "I don't know my password"
Step 2: You will need to type the e-mail again and write down the codes that you see. After you type them correctly you will need to write down an old password that you remember. It is not the last password you had since you forgot it.
Step 3: Even if you forgot it, do not worry just click on that. Later, you will get an option of whether you want a message on your mobile phone or you want a text message. They are going to send the code and you will have to enter it and continue to change the password.
Here is how you can change the password from your phone
Step 1: Go the App "Gmail" and go to Help. Select "Google Account Settings"
Step 2:  You will get all the information such as when you last changed your password. Type in the new password there.
Step 3: Before you write down the new password, you must type the old one even if you are using Google Play. You can even change Account Recovery settings to get our account whenever you have password issues.