How to apply makeup? Women love cosmetics because they think they can enhance their looks that way. They do it to feel better and look prettier than usual. If you do not know how to apply makeup, then read on. Here is how you can apply makeup.
Related articles about How to apply makeup
Step 1: Pick out a primer. You have to choose it according to your skin type and there are many available in the market. You can have blemishes, dry skin or oily. There are primers for each of these types. You can start with a moisturizer for the face and then apply the primer. The main task of the primer is to hold the makeup in place and even if you sweat you will still manage to look clean. Use a brush and apply it all over your face and do not forget the forehead.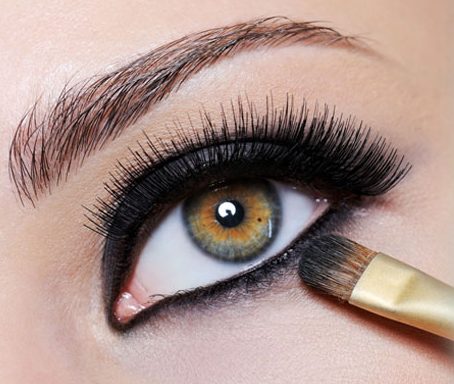 Step 2: Get a concealer. The color should be the color of the primer. For below the eyes, the color should be darker than the color of the skin. A concealer can either be a pencil so it is easy to use. Some people use them in palettes. You can buy them in stick form or liquid form. Start with the nose and the forehead. Go around the cheeks. Use a face blender to blend and mix it all over your face.
Step 3: It is time to work on the eyes. Look at the color of your outfit. Look at the time of the day. It depends on where you are going. Eyes are important to define your look. For example, if you are going to a part you want your eyes to be gorgeous with glitters and colors. If you are going to work you can just go with classic, dropped flick or no liner at all.
Do the eyebrows first. You have to brush your eyebrows with an eyebrow pencil and finish off with the gel. You can use an eyeliner to border the eyes. You can do at the bottom of the eyes. Put on some eye shadow according to the color that is going to suit you. You can start off with the nude color. Apply a dark color on top such as grey or black. Use your fingers to smudge them. Eye pencils are an excellent way to make the eyes look beautiful. Use a mascara to make the eyelashes look big.
Step 4: Do not forget the lips. If you want to border them use a lip liner. Apply a lipstick of light shade if you are going to work or a regular day routine. If you are going to a party or out with your friends, use red or dark-colored lipstick. Apply lip balm on top of the lipstick. Finish off with a lip gloss.
Step 5: Lastly, you have to contour. Since, you are a beginner, you can buy the contouring stick. Pull your cheeks inside and apply it over there and on the two sides of the nose. Use the blending brush to mix it all over. You can use blush of pink color if you want.