How to delete Instagram account? Instagram has always been famous for being a platform for sharing photos. It is not just an app on your phone. You maybe already using a lot of ways to share photos like twitter, Tumblr and others but you love this one. There are many reasons to use it and the first one is, it is easy to manage because it is only for sharing pictures. People do not have to deal with unknown messages, stalkers or annoying people as they can put full privacy on their photos. Many people delete their account because they think it is a waste of time, they find it hard to keep up with others by increasing their followers and they do not find it interesting. People display their personality over there and sometimes had to face trouble for that. Some people even get mocked for posting photos. Suppose, a parent is posting child's photos people say just because they have a baby does not mean they have to post every single action. Let us assume someone food photos food because they love eating, people will say you do not need to post everything that goes into your stomach.
Related articles about How to delete Instagram account
How to delete songs from iPhone
HOW TO UNINSTALL A PROGRAM FROM MAC
Here is how you can delete your Instagram account from your PC: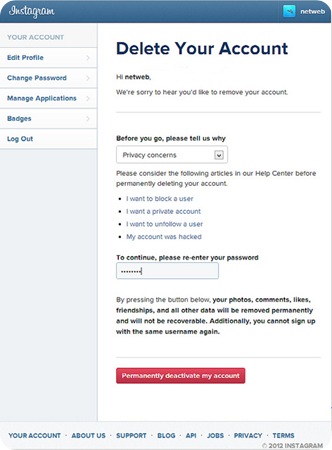 Step 1: Go to the URL of the official Instagram website and log in to your account with right email and password.
Step 2: Go to Edit Profile from the Account option. There are many options that lets you change the password, phone number etc.
Step 3: Go to the bottom right corner and click on "Delete my account". Select a reason or just go with Other and write down the password and it is ready to be permanently erased.
Here is how you can delete your Instagram account from your phone:
Step 1: Go to the internet browser you use on your phone and go the official site of Instagram. You will find that is not logged in even though your Instagram app is always on.
Step 2: Enter your account with the password and email. Go to the top-right corner and click on your Instagram name as in it could be strawberry_pink, lovetowork123 or just your name. Click on Edit Profile.
Step 3: You will see a lot of information put ignore them and scroll down and at the bottom-right click on "Disable my account" and click on the link. Erase the part where it is written temporarily and write permanently. After that click on "Permanently delete my account"
Tips and warnings
· You should know that this is going to delete all your account's photos and information. It is not like Facebook, that you can start using the old account again by simply activating it.
· Since you are going to lose all the photos, consider having a backup of all the photos in your PC or mobile phone.
· If you erase your Instagram account your photos, videos, comments and friendships will be eternally detached and cannot that them back again. Thus, make sure you have transferred your pictures and videos if you still need them. You cannot use the same email or username again.