How to make slime? Slime is made in many ways and some have different textures than others. They can be of many different colors such as green, purple, red or blue. Some even have their own smell. Kids love playing with these and love making it. You can buy them from the store and they do not cost much but making them is double the fun. Just get the items you need and you can start crafting. Crafting is good for the children's brains. It helps to think and solve problems and the finger muscles also get a good exercise. The slime has other names such as goo, ooze and gunk.
Related articles about How to make slime
Here is how you make slime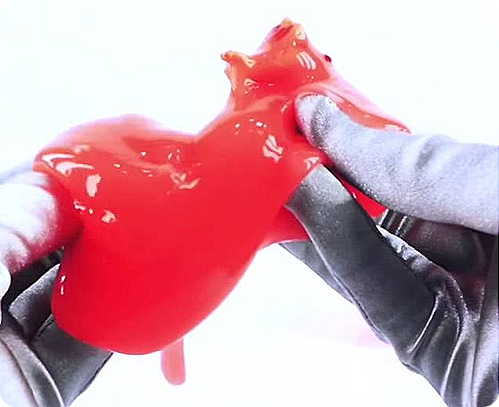 What you will need:
A bottle of white craft glue
clean water
8 to 10 drops of food color
3 teaspoons of borax
Step 1:  You will need a clean steel bowl and empty the bowl or at least pour half a cup. The bottle you just emptied, refill it with water.
Step 2: It is time to decide the color, suppose you are going with blue then simple add 8 drops of blue but if you are thinking of being a little too creative, you can combine different colors. You can add yellow and green or 4 drops of red and 4 drops of blue to make purple.
Step 3: It is time to put the cap back on the bottle of glue that you have refilled with water and shake it. After shaking it for a while, pour it in the bowl and give it a good stir for few seconds.
Step 4: In another plastic bowl, add half cup room temperature water and one-sixth of hot water. The reason for taking the plastic bowl is to make sure that it does not get warm and you burn your hand. Steel is a conductor so it is not going to be wise to handle the water in a steel bowl.
Step 5: In the hot water, add the two teaspoons of borax and you need to mix it evenly so that the mixture looks clear. Now it is time to add what you made in the steel bowl. It should have the color by now. To sum it up, it is basically, white glue mixture plus the borax mixture which gives us the slime.
After you complete all the steps you will have your slime and what you should know is that you need to purchase the items before you start. If that is becoming a problem for you, you can make slime with just two items but you will need to work a bit hard. The best part is the two items you need is always at your home unlike borax, food color or white glue.
What you will need:
Cleansing wash
A good shampoo
You need to get a small bowl and add the cleansing wash. It is time for you to add the shampoo but in a smaller amount that the cleansing wash. Now stir and stir until you have the perfect ooze. You will understand when it will be similar to an actual slime and it will not stick to your fingers.